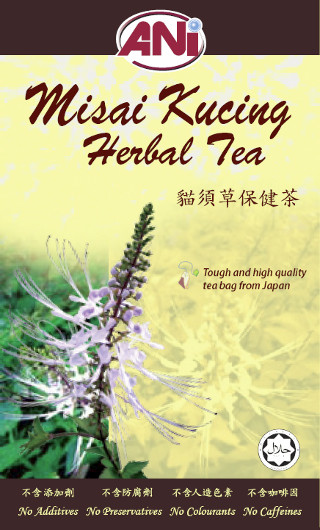 Misai Kucing (Orthosiphon Stamineus) has been traditionally used for centuries as a medicinal herb in South-East Asian countries such as Malaysia and Indonesia for treating ailments of the bladder and kidney.
It is also known as Java Tea in Europe and the US, where it was first introduced in the beginning of the 20th century and has since been a popular herbal tea. Researches conducted in the US, Asia and Europe on its efficiency, have identified many useful compounds present in Misai Kucing. It is reported to have antifungal, anti-inflammatory and anti-bacterial activities.
Traditionally, the plant has been used to manage / treat diabetes, reduce high blood pressure, treat arthritis, rheumatism, gout, arteriosclerosis, kidney stones, reduce cholesterol and many other ailments. In Malaysia, the leaves are commonly used as a diuretic and for treating catarrh of the bladder. A decoction prepared from Misai Kucing is used to eliminate stones in the bladder.
ANI Misai Kucing Herbal Tea is 100% made from fresh organic Misai Kucing tea leaves and flowers and are packed according to the strict Good Manufacturing Practice (GMP) standard and guidelines. ANI Misai Kucing Herbal Tea does not contain caffeine, artificial coloring, additives or preservatives. Our tea can be consumed regularly on a daily basis by everyone in the family irrespective of age group and has no history of causing side effects.
Nutrition Facts (based on 100g serving) :
| | |
| --- | --- |
| Nutrition Facts | Per serving (22gm/sachet) |
| Energy | 321 Kcal/100g |
| Fat | 0 % |
| Saturated Fat | 0 % |
| Trans Fat | 0 % |
| Cholestrol | 0 mg/kg |
| Sodium | 276 mg/kg |
| Total Carbohydrate | 62.8 % |
| Dietary Fiber | 3.2 % |
| Sugar | 0 % |
| Protein | 20.1 % |
Ingredients
100% Misai Kucing (Orthosiphon Stamineus) leaves
Packing
30 tea bags x 3gm
Direction of Use
Place one ANI Misai Kucing Herbal Tea bag in a cup
Pour 250ml hot water into the cup
Simmer for 4 to 5 minutes and then enjoy ANI Misai Kucing Herbal Tea
Once opened, store in cool dry place